Bill Nye The Science Guy is back!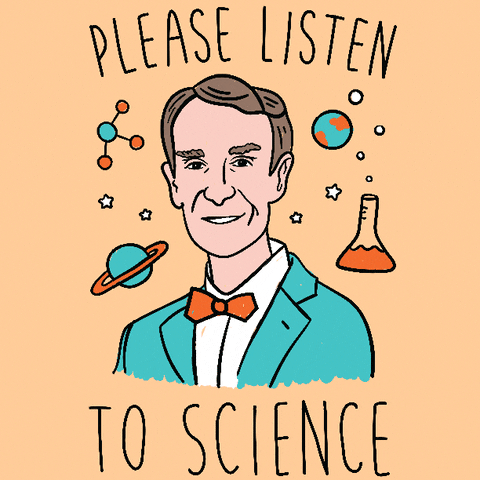 (via Giphy)
OK, so, I didn't grow up watching Bill Nye The Science Guy on PBS." But! I'm a huge fan of astrophysicist Neil deGrasse Tyson's podcasts StarTalk Radio and StarTalk All-Stars, for which Bill Nye is a frequent guest host. Bill Nye and Neil deGrasse Tyson are both passionate advocates of science, and somehow make even the most complex ideas sound FUN.
Bill Nye Saves The World (Netflix) delivers the FACTS on what have somehow become controversial topics, such as: climate change, alternative medicine, vaccines, sex and sexuality…and many others. Bill and his team of correspondents take you all over the world to show you the latest scientific findings and expert panel discussions on every topic. It's also worth noting that this show has done an excellent job of selecting women and people of color working in the STEM field as correspondents and panelists. Watching Moogega Stricker, a planetary protection engineer from NASA's Jet Propulsion Lab, talk about the Mars mission is so awesome.
One caveat is that Bill Nye Saves The World's target audience is adults. As such, some parents might find the jokes not so appropriate for kids. They're nothing explicit and innocent enough, but you might watch an episode or two and judge for yourself.
Here are some recommended episodes:
Episode 1: Earth Is a Hot Mess
Watch correspondent (and supermodel!) Karlie Kloss visit Venice, Italy to learn how residents are coping with the sea level rise resulting from the warming climate. Italians engineers have come up with a cool (and expensive) solution, which is very cool. Will it work in the long run?
Episode 3: Machines Take Over The World
Will robots become smart enough to take over humanity? What's the current state of artificial intelligence, how is it being used, and where is it going?
Episode 5: The Original Martian Invasion
How did life begin on Earth? Did life begin when a piece of rock from another planet—say, Mars—got into the mix billions of years ago? Is there life on Mars? Correspondent Dereck Muller visits NASA's Jet Propulsion Lab to check out what's being done to answer these questions. The opening segment features chef Alton Brown!
Episode 6: Do Some Shots, Save The World
Bill and his team take down the myth that vaccines are dangerous. Correspondent and engineer Emily Calandrelli travels to India to report on the polio vaccination efforts spearheaded by the Bill and Melinda Gates Foundation.
Episode 7: Cheat Codes For Reality
Video games! Bill and his team take a look at how video games are applied to medical training, what they're doing to our brain, the emerging world of e-sports, and virtual reality.
Bill Nye links:
Bill Nye's old show Bill Nye The Science Guy is also streaming on Netflix. Here's a handy episode guide, though not all of them are available for streaming: Bill Nye The Science Guy episode guide